Bye Depression! Chinese Couple's Dance Lifts Spirits of Millions
A Chinese farmer couple living in Wenzhou recently went trending on on the internet through their shuffle dance moves. They've cheered up millions of Chinese netizens who salute the couple's smiling faces and their easygoing approach to life. 
Dancing along the path to the field, dragging their feet and sometimes jumping into the air to imitate ducks, has offered the couple a mountain of joy, despite their failure in business, a serious traffic accident, illnesses and other troubles. 
Peng Xiaoying and her husband Fan Deduo from a small village in Rui'an, a county-level city in Zhejiang province, said that dancing had helped them get rid of depression together. 
Fan was injured in a traffic accident ten years ago. The trauma had led him to suffer from depression. He became nervous, irritated by trifles in life, especially when he couldn't see his wife, and had trouble sleeping at night. 
The couple decided to wrap up their shoe-selling business and return to their hometown Rui'an. During this time, Peng had to shoulder all the family's burdens. She left the huge pressure of earning a living while taking care of her family. 
Coincidentally, Peng came across shuffle dancing and became a square dance lover. She invited Fan to join her and practice the movements to help distract him from depression and anxiety. 
Initially, Fan was unwilling to try out the dance, but as he practiced more with his wife, he too fell in love. 
Since then, Fan and Peng became frequent participants in square dancing. When the couple were done with the farm work, they choreographed dances and tried them out in the field. Shuffle dancing became an outlet for them to release their pressure and anxiety. 
They incorporated certain rural life elements, such as combing the hair, pumping the bellows and imitating a duck walking, into the dance. 
"Whenever we feel upset, the shuffle dance always helps cheer us up and lighten our mood. It has been such an up-lifter in our lives," Pens said. "I think the main reason why we get so happy when we dance has to do with the idea of us exercising with the shuffle on the ridges. It's really exciting." 
During the recent COVID-19 pandemic, the couple posted their dance videos on video sharing platform Douyin. Their innocent smiles and unique dance steps took cyberspace by storm, with more than 1.5 million netizens subscribing to their channel so far and following their dancing.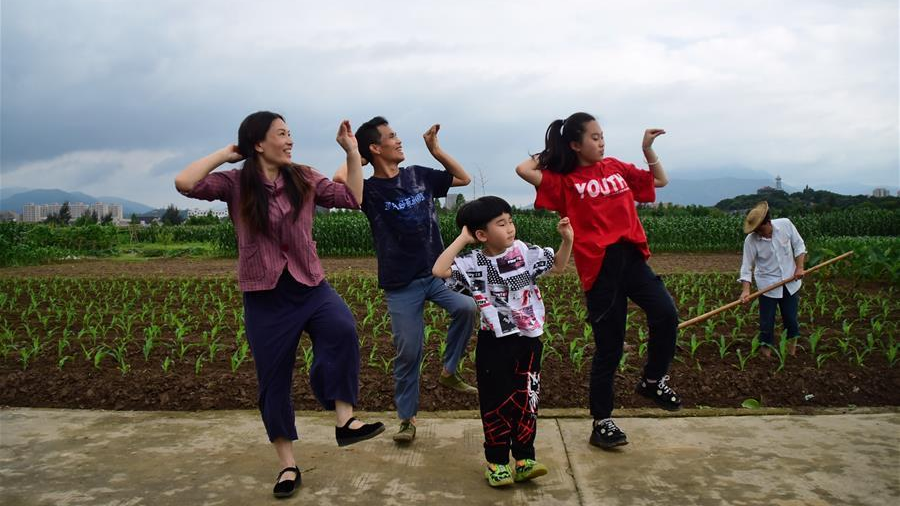 △ The couple perform dancing with their kids in the field. 
Their optimistic attitude towards life and hardship has been lauded by many netizens. Encouraging and praising comments have flooded the couple's videos. 
"Look at them! I think that's really what the essence of dancing is about – not showing off but really bringing happiness and joy to the dancers themselves in a simple way. This is the most beautiful dancing I've ever seen," one netizen effused.
"Whether you live in an urban or rural area, wealthy or poor, as long as you live happily, you are happy," said another Douyin user. 
When life tries to bring you down, just dance!