What? China Lowers Marriage Age to 18!?
A suggestion to lower the minimum marriage age in China has been widely argued on the Internet these days. It is said that women may marry from 18. 
PROPOSE TO CHANGE
Ding Lieming, a National People's Congress deputy, suggested in March to lower China's marriage age that the man reached 20 and the woman reached 18, in order to encourage childbirth.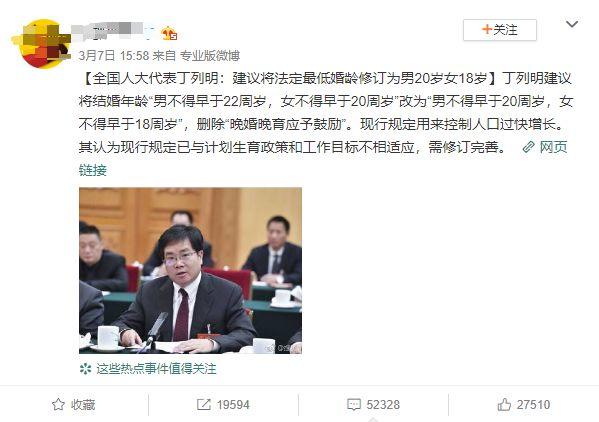 Many netizens post their opinions against the idea, saying that it is too young to enter into the commitment of family. 

It may intensify social contradictory. 

Some say that the most essential part to impact the marriage age is not the childbirth issue but the capability of bearing responsibilities. 

REMAIN AT 22/20
On Oct 21, a new draft of the marriage and family section of the civil code was submitted to the session, proposing a new clause that families shall establish good family traditions, carry forward family virtues and attach importance to promoting familial culture.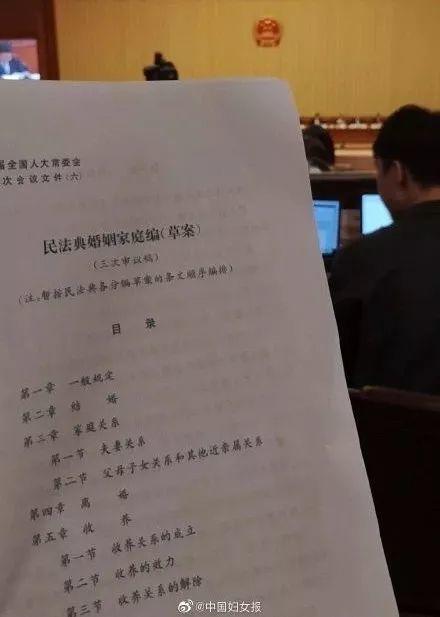 According to the reports, China's marriage age limit will remain at more than 22 for men and more than 20 for women.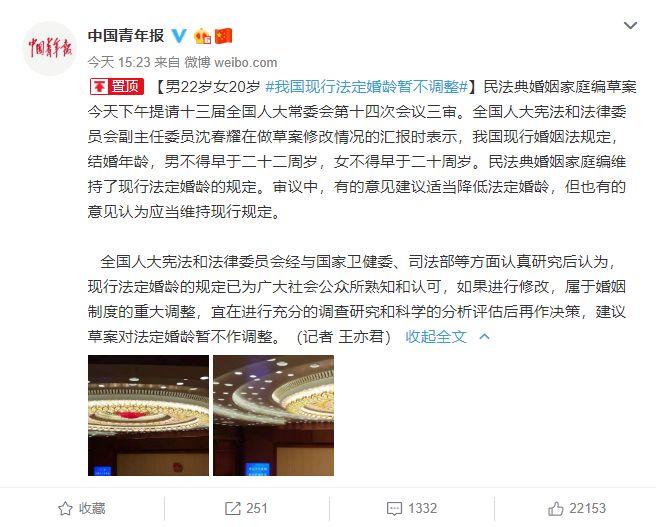 The news immediately hit Weibo and raised heated discussion.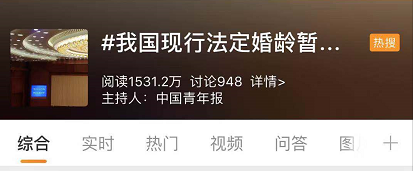 People strongly support that not to lower the minimum age, saying that it's not appropriate to marry at 20 in most case. 


Some people even joke that the age should be raised to 30. 



It's hard to get a girlfriend anyway. 
HOW TO MARRY IN CHN? 
So, what is required to get married in China? 
First thing first, China has released an announcement, saying that marriage registration for both parties who are not mainlanders is canceled.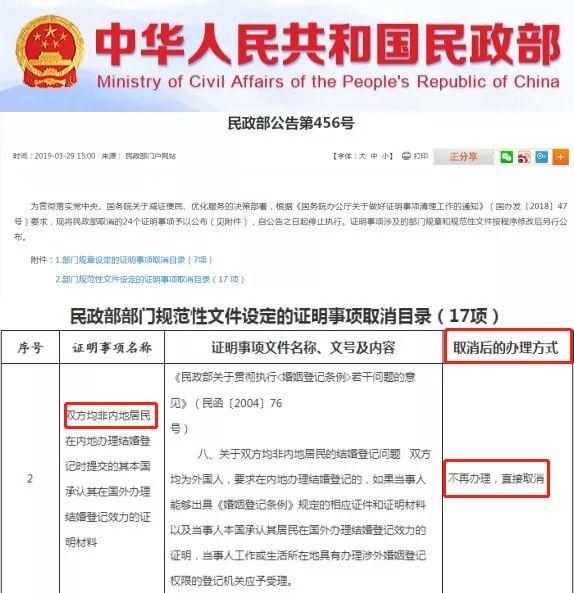 This means that if you and your fiancé/fiancée can not obtain a Chinese marriage certificate if both of you are foreigners or not mainlanders of China.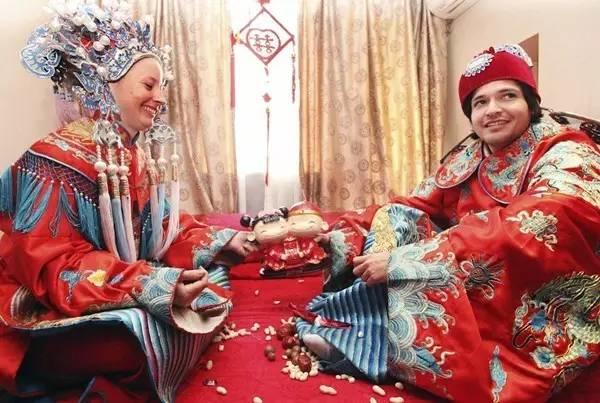 But marriages between a foreigner and Chinese national are still permitted if the Chinese citizen is not: 
An Army man in active service, diplomatic personnel, public security personnel, confidential personnel, or other personnel who is in charge of important confidential work;

A Person who is receiving reeducation through labor or serving a sentence.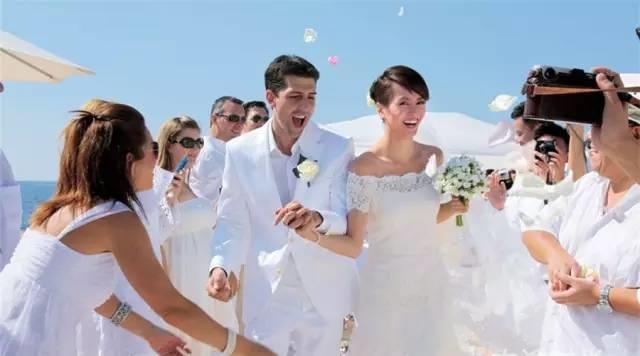 If you two meet all the conditions and are allowed to obtain Chinese marriage certificates, the required documents you need to prepare are: 
For Foreigners
The valid passport or other valid international travel certificates of the applicant. 

Certificate of no spouse issued by the notary office or the authoritative agency in his/her home country and authenticated by the Chinese embassy(consulate) in that country or home country's embassy (consulate) in China; or certificate of no spouse issued by the embassy (consulate) of the applicant's home country in China (The name, date of birth, and certificate number on the single status certificate must be in consistent with those appearing on the passport, and the applicant's current marital status must be clearly indicated as single on the single status certificate).

Translated documents of certificate or declaration of no spouse (everything in foreign language must be translated into Chinese).

Photocopies (A4) of valid passport or other valid international travel certificates: the personal information page and photo-containing page of passport or certificates, valid visa page, and the latest port entry page of passport. 
For Chinese Citizen
The Household Residence Book, 

(Note: the marital status on the Household Residence Book shall be consistent with the actual marital status of the applicant, which shall be "single", "divorced", or "widowed"). 

Declaration with signature which declares that the applicant has no lineal relative by blood and collateral relatives by blood up to three generations with the other party.

Photocopies (A4): the first page and the personal information page of the applicant's Household Residence Book; both sides of the Personal ID Card.
Related Articles
Share to let your friends know!

SOURCE | 广州日报