Shenzhen to Cracks Down on Illegal Foreigners!
On May 9th, Shenzhen entry and exit issued a notice that they are cracking down on "sānfēi foreigners"!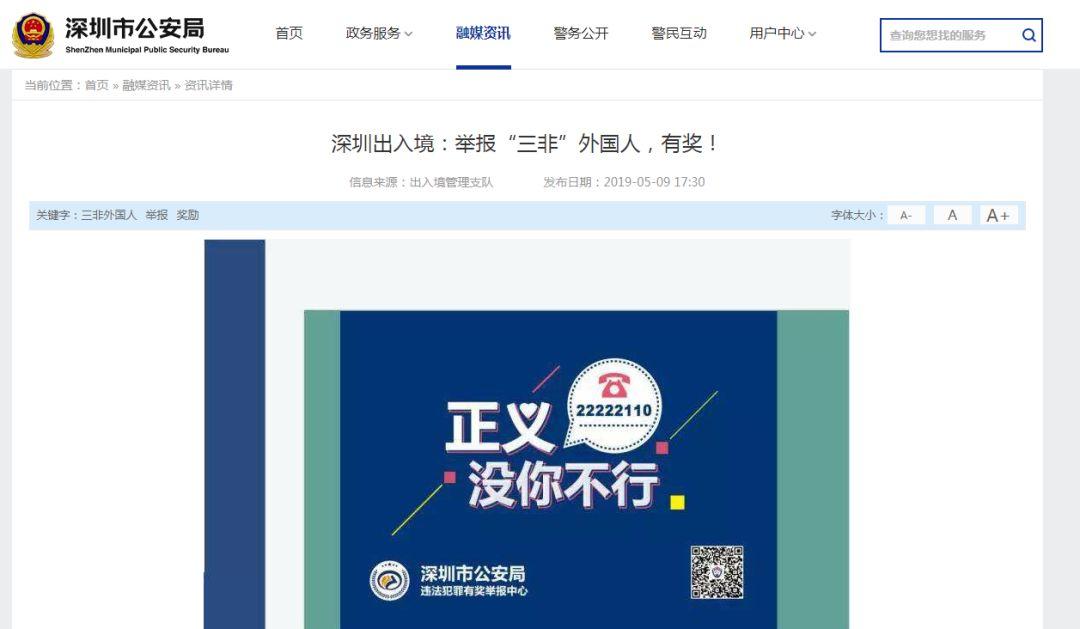 The term refers to foreigners who fall into one of the 3 illegal categories: entering, working, or residing in China without valid paperwork.
In order to maintain the entry and exit administration of Shenzhen and the public security order of the foreign-related society, it hopes that the general public will actively participate and report sānfēi foreigners.
An informant in Shenzhen who discovers a foreigner has committed any of the following illegal or criminal acts, he/she may report the matter to the public security organ.
Each foreigner shall be administratively detained and a reward of 500 RMB will be given to the informant.
For every administrative fine of 1 foreigner, a reward of 300 RMB will be given to the informant.
What punishment will be issued for illegal foreigners and those assisting in illegal employment?
In accordance with the provisions of articles 41 and 80 of the Exit and Entry Administration Law of the People's Republic of China, foreigners working in China shall obtain work permits and residence permits for work in accordance with relevant regulations. 
Employers may not employ foreigners who have not obtained proper work or resident permits.
Employers who illegally hire foreigners will be fined 10,000 RMB according to the law of the People's Republic of China on Entry and Exit Administration.

Employers who accommodate illegal foreigners will face a 5,000-20,000 RMB fine and 5-15 days of detention. Any income received for illegal foreign employees shall be confiscated.

Agencies that introduce foreigners to illegal employment will be fined 5,000 RMB for each referral.

A foreigner who enters China and exceeds the valid stay period stipulated on the visa or residence permit shall be deemed illegal in China and fined a maximum of 10,000 RMB or detention of 5-15 days.
According to article 318 of the criminal law of the People's Republic of China, if the company is suspected of organizing others to illegally cross the national border, the person in charge and the person directly in charge of the company shall be sentenced to fixed-term imprisonment of not less than 2 years but not more than 7 years and shall also be fined. 
If the circumstances are serious, the person shall be sentenced to fixed-term imprisonment of not less than seven years or life imprisonment.
All of these outlets are secure through the Shenzhen Public Security Bureau for citizens to report.
1. Telephone: 
Phone Number: 0755-22222110
2. Online:  
Website: www.szga.gov.cn 
WeChat public account: "深圳公安" (Shenzhen public security)   
Email: szgayjjb@szga.gov.cn
3. On-site: 
Shenzhen Public Security Bureau in the City's Public Security Organs at all levels including the police station and special reporting centers
The Shenzhen Public Security Bureau keeps informants safe with a strict confidentiality system.