Not All People Available to 144hrs Visa-Free Transit Policy!
Starting May 1st, travelers from 53 countries can enjoy a 144-hour visa-free period when transferring through Guangdong.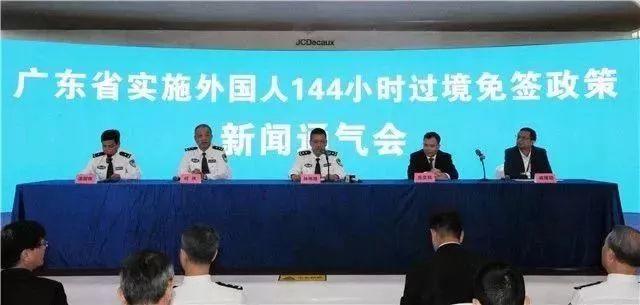 At present, channels for visa-free transit passengers are set in the ports of entry.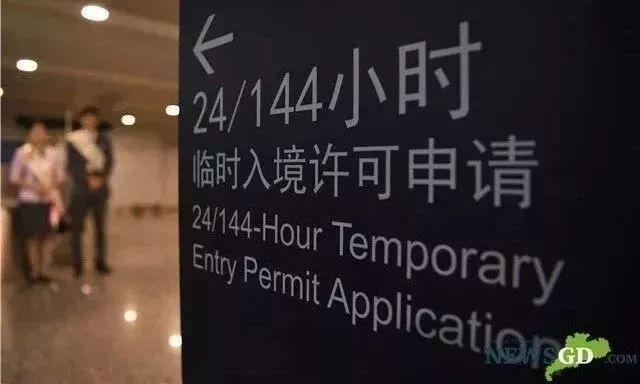 "Foreign transit passengers are, however, required to remain within Guangdong during the 144 hours," Lin, Deputy Director General of the Guangdong Provincial Public Security Department added.
Baiyun International Airport, Shenzhen Bao'an International Airport, Meizhou Airport, Zhanjiang Airport, Jieyang Chaoshan Airport
Railway
Guangzhou East Railway Station, Dongguan Railway Station, Foshan Railway Station, Zhaoqing Railway Station
Highway
Shenzhen
Shatoujiang Port, Wen Jindu Port, Huanggang Port, Luohu Port, Shenzhen Bay Port, Futian Port
Zhuhai
Gongbei Port, Hengqin Port
Harbors
Guangzhou
Port of Guangzhou Gang, Port of Nansha Gang, Port of Lianhuashan Gang
Shenzhen
Port of Shekou Gang, wharf of Shenzhen Bao'an International Aiport
Zhuhai
Port of Jiuzhougang, Wanzi Port, Port of Wanshangang, Port of Doumen Gang
Jiangmen
Port of Jiangmen Gang, Port of Heshan Gang
Foshan
Port of Foshan Gaoming Gang, Port of Rongqi Gang
Zhongshan
Port of Zhongshan Guang
Dongguan
Port of Dongguan Humen Gang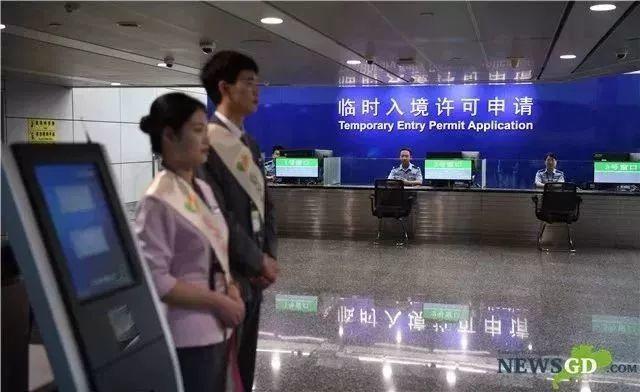 Austria, Belgium, Czech Republic, Denmark, Estonia, Finland, France, Germany, Greece, Hungary, Iceland, Italy, Latvia, Lithuania, Luxembourg, Malta, Netherlands, Poland, Portugal, Slovakia, Slovenia, Spain, Sweden, Switzerland, Russia, Britain, Ireland, Cyprus, Bulgaria, Romania, Ukraine, Serbia, Croatia, Bosnia and Herzegovina, Montenegro, Macedonia, Albania, Monaco, Belarus
America
United States, Canada, Brazil, Mexico, Argentina, Chile
Oceania
Australia, New Zealand
Asia
Korea, Japan, Singapore, Brunei, UAE, Qatar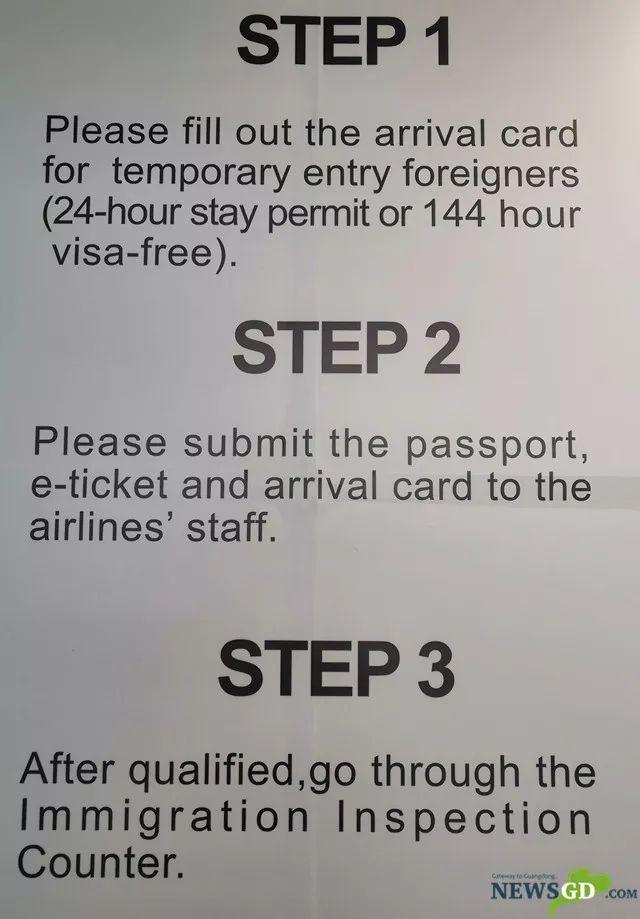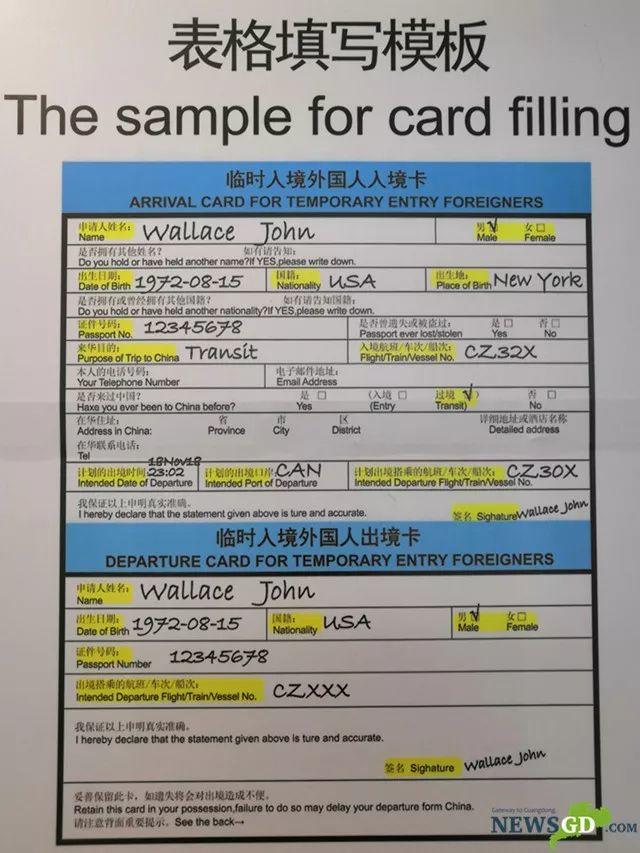 Q1: Where can foreign passengers eligible for the 144-hour visa-free transit apply when they arrive at Guangzhou Baiyun International Airport?
Special areas for 144-Hour Temporary Entry Permit Application have been set up in both T1 and T2 at Guangzhou Baiyun International Airport. Passengers eligible for visa-free transit can follow the guide signs to the application area.
Q2: What documents do I need to show the immigration officer for inspection while applying for 144-hour visa-free transit?
Passport or other international travel documentation with a remaining valid period of more than three months;

Arrival card for temporary entry foreigners (144-hour visa-free transit) filled out;

Onward ticket to a third country (or region) with confirmed departure time and seat within 144 hours of arrival, which can be an air, sea or train ticket
Q3: How long does the whole process take?
It will take about 10 minutes during passenger-flow rush hours.
Q4: When do the 144 hours of visa-free stay start?
After confirming your qualification for the 144-hour visa-free transit, you will get a temporary entry permit from the immigration inspection station. Then from 00:00 of the next day upon your arrival in China, you can stay within the designated area without a Chinese visa for a maximum of 144 hours (6 days).
Q5: Under what circumstances are foreigners not allowed a temporary stay permit?
Under any of the following circumstances, foreigners will not be issued a temporary stay permit by exit/entry border inspection authorities:
Circumstances in which entry is not allowed in accordance with laws or administrative regulations;

Valid period of passport or other international document is less than three months, or there is a previous rejection stamp from China's visa-issuing authorities;

Have a record of illegal entry into or exit from China, illegal residence or illegal employment in the past five years;

Have violated regulations on accommodation registration under serious circumstances over the past two years.
☉During the visa-free transit period, foreigners should abide by China's laws and regulations and stay in the designated area.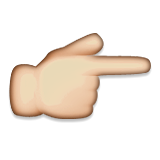 U May Stay in China Illegally? Check This First!
☉If foreigners stay in hotels in China, the hotels should register their stay. For foreigners who reside or stay in domiciles other than hotels, they or the persons who accommodate them should, within 24 hours after arrival, go through the registration process with the public security bureau or foreigner service stations in local police stations near the place of residence.
☉If foreigners need to stay in the designated areas beyond the 144 hours due to uncontrollable circumstances, they should immediately notify and apply to the exit/entry administration department of the public security bureau for corresponding stay permits.
☉Foreigners who fail to remain in the designated area or fail to leave within the specified time limit, to exit from designated ports or process accommodation registration, will be punished by exit/entry border inspection authorities or the local public security bureau according to the law.