Top 5 Richest Foreigners in China! Do You Know Them?
The Hurun Research Institute, world's largest wealth list provider, just released China Rich List 2019, a ranking of the richest individuals in China. There are 18 individuals born outside China on the list, of which 5 are of non-Chinese origin.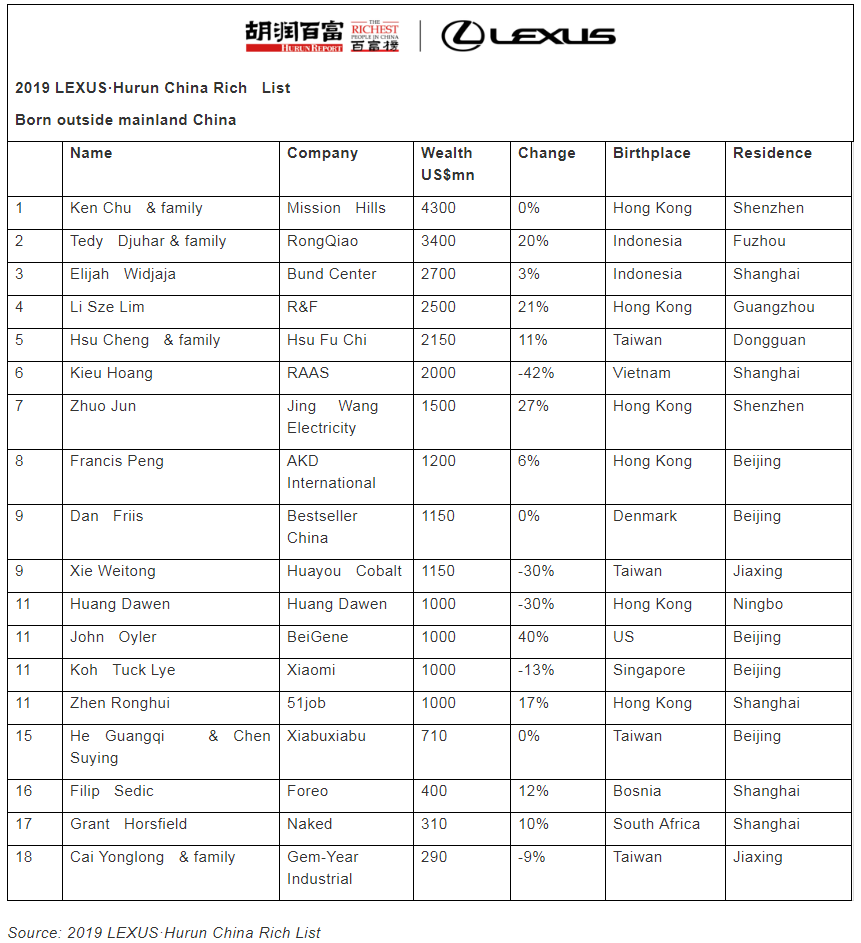 According to the list, the top five richest individuals of non-Chinese origin are: RAAS's Kieu Hoang, Bestseller China's Dan Friis, BeiGene's John Oyler, Foreo's Filip Sedic and Naked's Grant Horsfield. 
Grant Horsfield was born in South Africa. After years of working in the UK and South Africa, he came to China in 2006 and founded Naked in 2007. 
The boutique retreat was built in East China's Zhejiang province, running two resorts in Mount Mogan. 
Ever since establishing FOREO in 2013, Sedic, a Bosnian-born Swede, has been active in all aspects of the now multinational brand. 
With Sedic as inventor-in-chief, the FOREO Institute has established a reputation for disrupting beauty world conventions. 
John Oyler is CEO of Beigene Ltd, a clinical-stage biopharmaceutical company engaged in the discovery & development of molecularly targeted & immuno-oncology drugs for the treatment of cancer. 
Dan Friis and his business partner Allan Wargurg started clothing group Bestseller in China in 1996. 
Many well known European-style clothing brands such as Only, Vero Moda and Jack & Jones are from the group. 
Kieu Hoang is vice chairman of Shanghai RAAS Blood Products Co.. 
He was born poor in Vietnam and immigrated to the U.S. with his family in 1975 and now is vice chairman of Shanghai RAAS Blood Products Co. 
A collaboration with the Shanghai Blood Center in China in 1987 led Hoang to found Shanghai RAAS Blood Products in 1988. 
Share to let your friends know!

SOURCE | Hurun Report