The 126th Canton Fair Countdown! Are You Ready?
The 126th China Import & Export Fair (Canton Fair) will kick off. As the largest comprehensive international trade exhibition with the greatest business turnover in China, the Canton Fair attracts millions of overseas buyers. Let's check what you need to know about the latest session! 
It's our great honor to invite you to visit us at 126th Canton Fair. A good opportunity to make a better understanding of marketing issues & future business. 
Welcome to HACOS's booth at No. T69 on the pavement.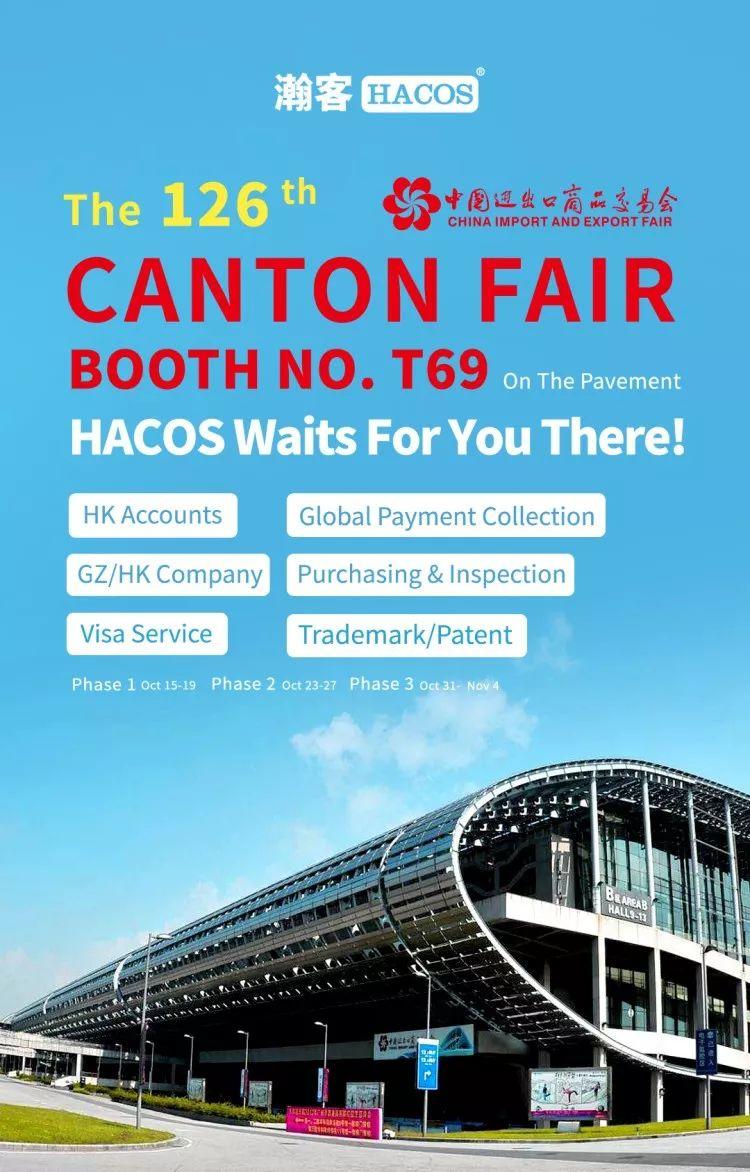 (More information about exhibit categories is shown below) 
China Import & Export Fair (Pazhou) Complex
No. 380, Yuejiang Zhong Road, Haizhu District, Guangzhou, China
Getting your Buyer Card via Online Pre-application is your option. It
 is the only official admission to Canton Fair. 
If you have got a Buyer card, please pay attention: 
The Badge is valid for multiple sessions of the Fair, which ensures your entrance to the Fair directly and saves your time with an easy access. 
If you forgot to bring or lose it, re-application will cost you 200 RMB/card as service fee. The previous badge will be invalid right after re-application, please ensure the badge you wear is the newest. 
For your convenient registration, the Fair has Buyer E-Service Tool (BEST) platform for pre-registration, and overseas buyers' registration offices both in Complex and hotels in Guangzhou and nearby cities. 
Website: http://invitation.cantonfair.org.cn/BuyerUser/RegisterUser
China Import and Export Fair, also known as Canton Fair, is held every spring and autumn in Guangzhou, China. 
The Canton Fair enhances trade connection between China and the world. It is an outstanding platform explore the international market. 
Up to the 125th session, the accumulated export volume has amounted to about USD 1.3834 trillion and the total number of overseas buyers has reached 8.80 million. 
Official Website: http://www.cantonfair.org.cn/en/index.aspx
Check the following website to search and view the exhibitor and product list of each section. 
Website: http://i.cantonfair.org.cn/en/Categories/Index
Electronics & Household Electrical Appliances
Consumer Electronics and Information Products

Electronic and Electrical Products

Household Electrical Appliances
Bicycles

Motorcycles

Vehicle Spare Parts

Vehicles
Power Machinery and Electric Power

Large Machinery & Equipment

General Machinery, Small Processing Machinery and Industrial Accessories

Construction and Agriculture Machinery (Indoor & Outdoor)
Building and Decorative Materials

Sanitary and Bathroom Equipment
International Pavilion (Phase 1)
Kitchenware & Tableware

General Ceramics

Household Items

Personal Care Products

Toiletries

Pet Products & Food
Clocks, Watches & Optical Instruments

Toys

Gifts and Premiums

Festival Products
Art Ceramics

Glass Artware

Weaving, Rattan and Iron products

Home Decorations

Gardening Products

Stone/Iron Decoration & Outdoor Spa Equipment

Furniture
Men and Women's Clothing

Kids' Wear

Underwear

Sports and Casual Wear

Furs, Leather, Downs & Related Products

Fashion Accessories and Fittings

Home Textiles

Textile Raw Materials & Fabrics

Carpets & Tapestries
Office Supplies, Cases & Bags, and Recreation Products
Office Supplies

Cases and Bags

Sports, Travel and Recreation Products
Medicines, Medical Devices and Health Products
Medicines, Health Products and Medical Devices
International Pavilion (Phase 3)
Share to let your friends know!