3 Big Lendors in HK to Scrap Minimum-balance Fee!
01

HSBC

On June 21, it will scrap the minimum balance and below balance fee for personal integrated accounts that apply to 3 million customers in Hong Kong from August 1, HSBC said. 

https://www.hsbc.com.hk/accounts/remove-below-balance-fees/

© Image | HSBC

The following fees will be removed, effective from 1 August 2019: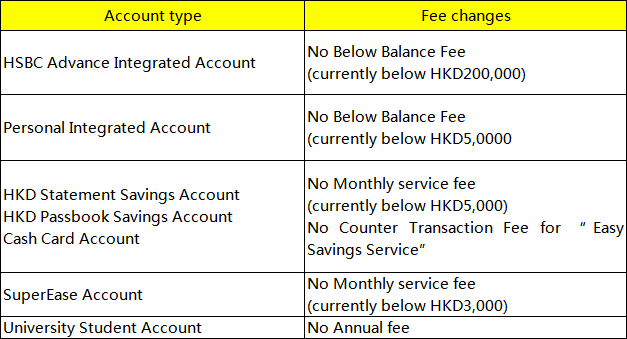 02

BOCHK

Bank of China (Hong Kong) Limited (BOCHK) will remove service fees for personal integrated banking services and general banking accounts from August 1, 2019.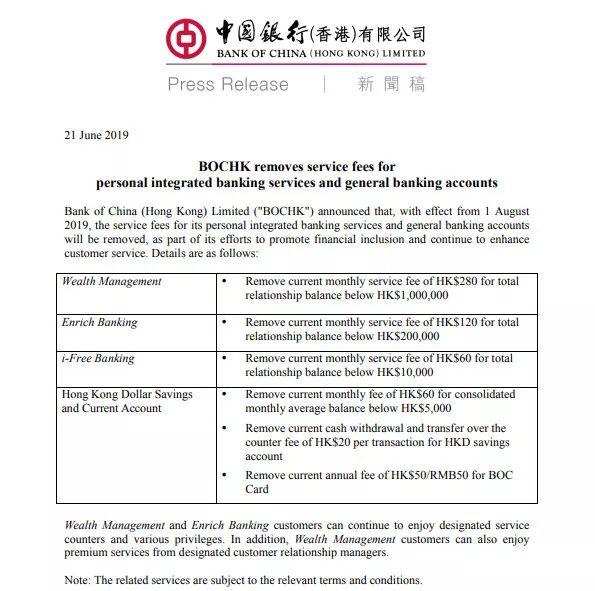 © Image | BOCHK

03

Standard Chartered Bank

Standard Chartered Bank will abolish its minimum-balance fee from August 1, the third major bank in a week to scrap the charge imposed on small depositors as Hong Kong's traditional lenders prepare to fight off competition from virtual banks.

Counter transaction service fee for click-account clients and low balance maintenance fee for non-packaged client's deposit accounts also to be removed by it.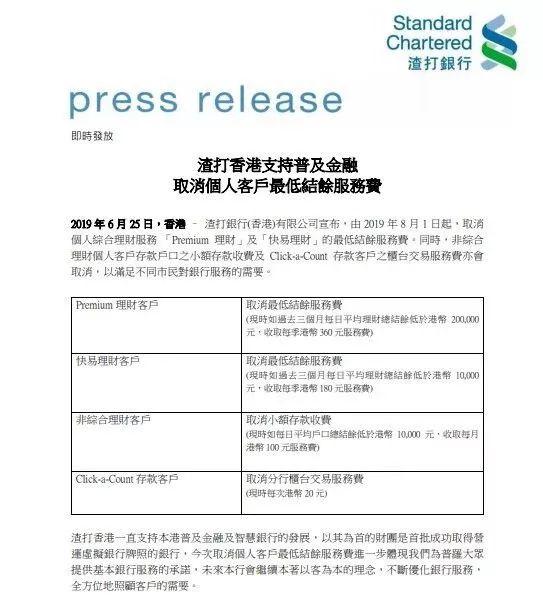 © Image | SCB

 

These moves are related to the fact that there will be eight new virtual banks set up in Hong Kong in the fourth quarter of this year," said Ben Kwong Man-bun, a director of brokerage KGI Asia. 

"HSBC needs to act now to persuade its millions of customers to stay on or many of them may opt for joining the virtual banks which do not charge a fee for small depositors."
© Image | Google

 

The eight newly licensed virtual banks include two joint ventures separately led by the city's two note-issuing banks – Bank of China (Hong Kong) and Standard Chartered Bank.

They also include a joint venture led by China's first online insurer, ZhongAn Online P&C; a Xiaomi-AMTD Group venture called Insight fintech, and the Infinium consortium that includes Tencent Holdings, ICBC (Asia), and Hong Kong Exchanges and Clearing (HKEX).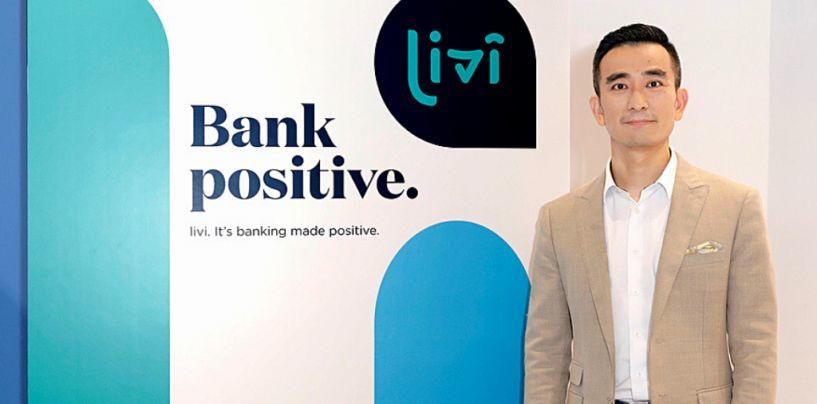 © Image | Google

The other three are home-grown unicorn WeLab; mainland China's second largest life insurer Ping An Insurance's subsidiary Ping An OneConnect, and Ant Financial Services' Ant SME Service.