Dead & Gone! D&G Will Pay For It!
Few people don't know the international luxury brand Dolce & Gabbana(D&G), its classically created LOGO always reminds people of the most fashionable design styles for clothes, bag and watch.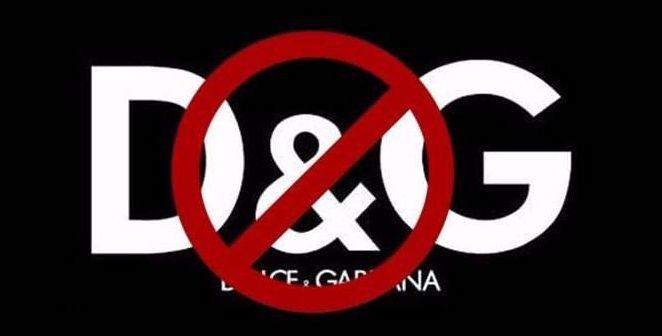 © Image | Weibo
Yesterday (Nov 21st) D&G managed to achieved itself the hottest hastag on Chinese Sina Weibo for several hours. But far from doing itself a favor in promoting the brand's fame, that heatedly discussed hastag disgraced its world-wide reputation, triggered Chinese people's boycott to this brand and put itself in the center of whole-China's fury. 
So what happened? The real culprits behind all these were the racist remarks from D&G's designer Stefano Gabbana and an insulting ad video made by this brand.
This video, posted on D&G's official Sina Weibo account , was made by D&G to warm up its big stage show organized and scheduled to start on today in Shanghai.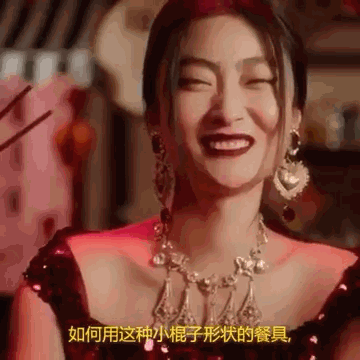 In the video, an eastern woman wearing an eye-catching red D&G-designed clothes is eating Italy foods with chopsticks. People see nothings wrong when they watch the video at first sight.  
But what caught Chinese netizens' attention was the video's narrations, in which the male narrator speaks arrogantly, pronounces the Italy word "Bravissimo" in Chinese accent purposely and uses improper expressions like describing Chinese chopsticks as "little sticks".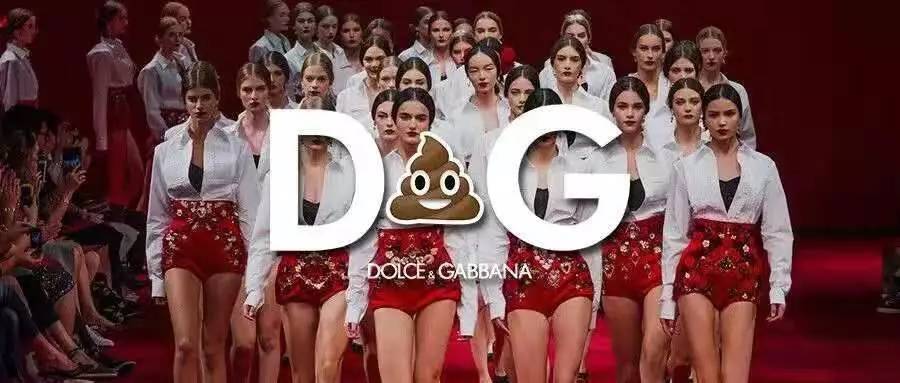 Most netizens in Sina Weibo, after watching this video, thought the narrations in the video insulted traditional Chinese culture.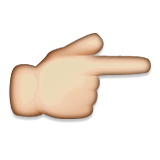 https://www.youtube.com/watch?v=KvSVYphuDYo
And that was not the end for this incident. One Chinese user exposed several dialogues with the brand's designer and co-founder Stefano Gabbana, making the situation worse. Based on screenshots posted by the online user, the designer used expletives to describe China, and expressed his determination he would never cancel the offending post.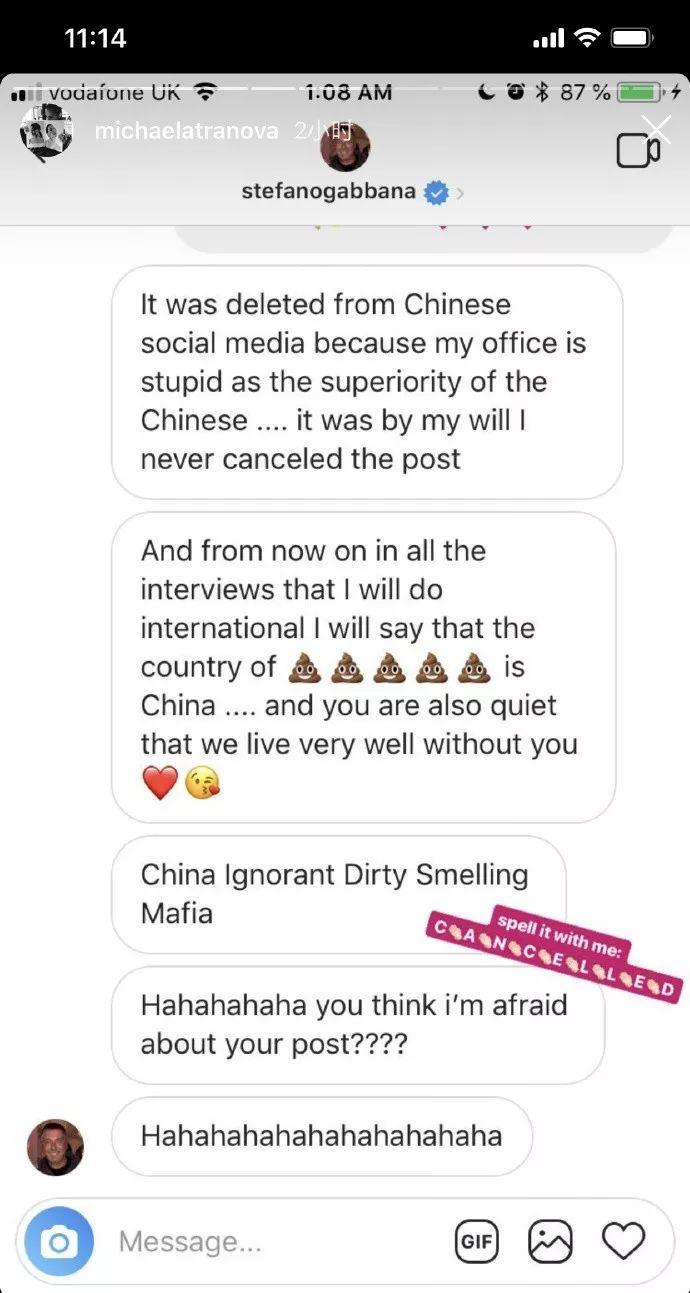 © Image | Instagram
The designer's offensive and racist remarks instantly went viral on Sina Weibo, many Chinese celebrities including the international super star Zhang Ziyi and Li Bingbing announced their decisions not to attend D&G's stage show in Shanghai after knowing the China-insulting incident. 
And celebrities' boycott to the show scheduled on Nov 21sth directly leaded to the cancellation of it. It is reported that the construction fee for the stage of the show and fees for other preparation works surpass 8 million RMB(about 1155,268USD). What a waste, right?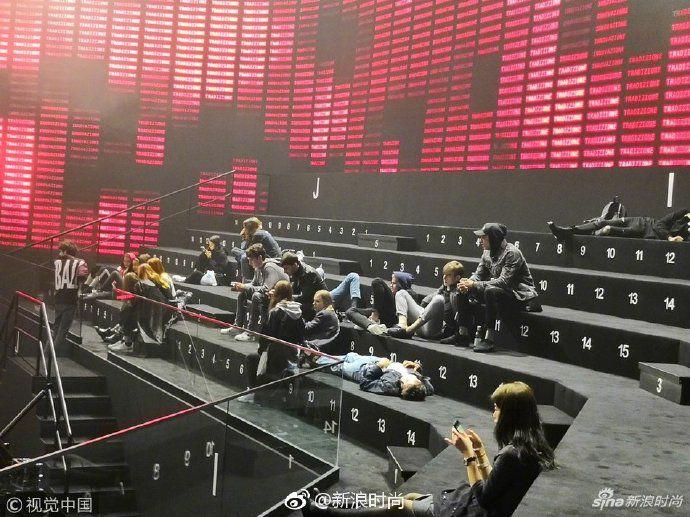 © Image | Weibo
Realizing the incident kept brewing negatively in China, D&G later claimed on its official Sina Weibo account that the the designer's Instagram account was hacked and the racism remarks were not made by him.
Very soon, the designer himself also updated his post on Instagram by saying that he loves China and apologizes for the whole incident. Most Chinese netizens did not believe what the designer said, the huge contrast of the designer's words makes the apology unconvincing and Chinese people don't buy it.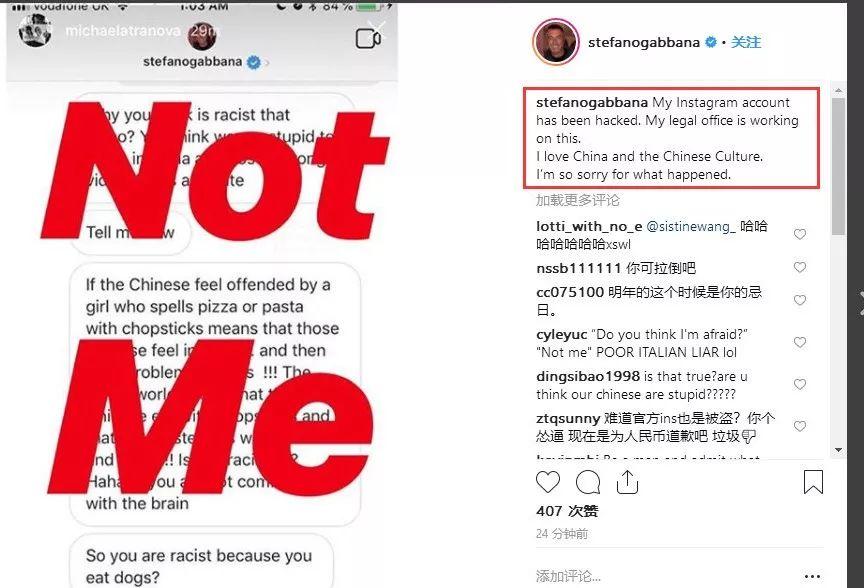 © Image | Instagram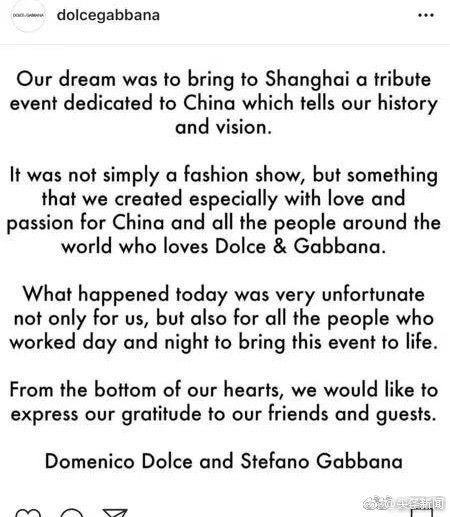 © Image | Instagram
What a pity, thousands of people including models and work staffs worked so hard to present the world a great show but it was totally ruined by the designer's stupidity on his remarks. Shame on him. 
The latest news today says that many Chinese online shopping portals including T-Mall and JD.com have already delisted D&G products from their online shelves. It seems that the incident is far from be resolved and D&G at this moment should know that Chinese people are really pissed off.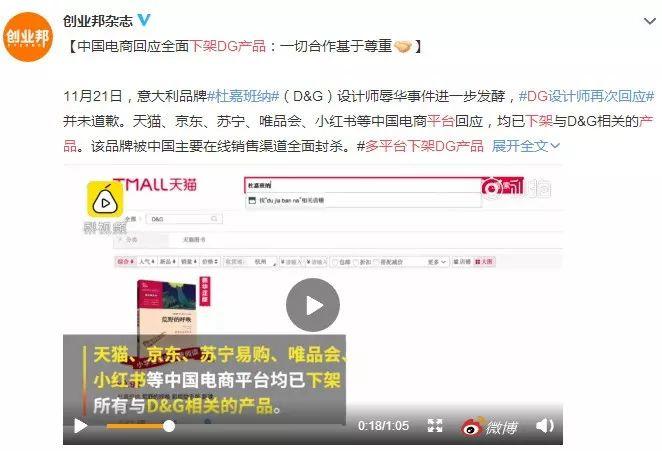 © Image | Weibo
Respect Helps Your Business Grow Better 
There is a wise Chinese saying concerning business-doing goes like this: "Harmonious relations help make business prosperous" (和气生财). This is a motto has been kept in heart and mind by generation after generations Chinese businessmen, and it is also applicable for any business and is especially true for contemporary business activities. 
Respect gains respect.
When expats try to settle down or want to start a business in a foreign country, three things should always be kept tight in mind–they are: be respectful, be modest, build a harmonious relations with things and people around you. 
You may have already known it well that the Chinese society is a "关系社会" or "Connection society". Chinese people value their social connections a lot. And this society's feature is heavily reflected in business circles. 
If you spend much effort in building good relations with the things and people around you, you should free yourself the worries like current small-scale or limited applicable business sources, because your Chinese friends and customers will help you a lot in promoting your company's reputation. And that is the invisible asset for your company. 
However, if you do the opposite like D&G who is so two-sided, making money from Chinese and showing no respect to them, your business will not go very far because powerful strength generated from the aligned social connections will make your business less progress or even hard to continue. 
"Stupid is as stupid does". 
Some Chinese internet user revise "D&G" for "Dead & Gone" or "Damn you & Go home", Chinese people's anger will make D&G pay and the brand should learn a lesson from this.