This Secret Style of Bread Goes Viral Because…
A picture about two packs of bread goes viral on the Internet and sparks an online debate. Some even say that what is shown in the picture is definitely a crime. What's the matter? 
Alek Krautmann, a meteorologist from Washington, U.S., posts the picture on Twitter, showing that the bagels he brought to his coworkers from Saint Louis are vertically sliced like common bread. 
Netizens don't approve since bagel is sliced horizontally in normal. This look of the bagels seems kind of weird for many people, especially the New Yorkers. 
Senator Chuck Schumer comments that the St. Louis style of bagel is never going to be a hit in New York. 

Dermot Shea, chief of detectives with New York Police Department (NYPD), even retweets and jokes that it is a crime to slice bagel like that. 

How can the different slices of bagel cause such a heated and dividing discussion? 
Bagel is an authentic American food, equivalent to baguette for French. Many people love to eat bagels as their breakfast or brunch. 
Just like beers from Colorado considered the best, bagels from New York are also considered the most delicious. Some even say that you need New York City water to make great bagels. 
New York bagels traditionally have a crispy crust and a chewy interior that should have a "pull" when eating it. This unique texture plus the fragrant smell and taste makes it unique from other breads on the market. 
As the most beloved American food, bagels were not born in the US. 
The first known mention of bagels was in a Jewish community in Poland. Many Jews immigrated to the US and settled in New York City. Of course, they brought their own cuisine with them. 
At first, bagels were only well known in the Jewish neighborhoods in New York City. Then it grew to all of the New York City, to the suburbs and the east coast of America. 
Many people think a bagel is just for breakfast however it is not. You can use a bagel to make almost any type of sandwich. A sandwich made with a bagel is sometimes called a Bagelwich. 
Some people will remember having pizza bagels after school, which is an easy and filling snack.  
One of the traditional ways to eat a bagel it is with cream cheese, lox, thinly sliced red onions, capers, and tomato. This can be eaten for breakfast/brunch or as a sandwich for lunch. 
Also, smoked salmon salad and white fish salad on a bagel is a delish way to enjoy bagels. 
However, the most basic way but still very tasty is a toasted bagel with cream cheese. Nowadays you can get flavored cream cheeses which will make a filling and quick breakfast. 
An authentic New York bagel is still hard to find in China but not impossible. Most bagels in China are a piece of bread in the shape of a bagel, which can be very disappointing. 
In these days many Chinese see a bagel and get it confused with a donut. Donuts may have the same shape but their taste, texture, and preparation are completely different from bagels.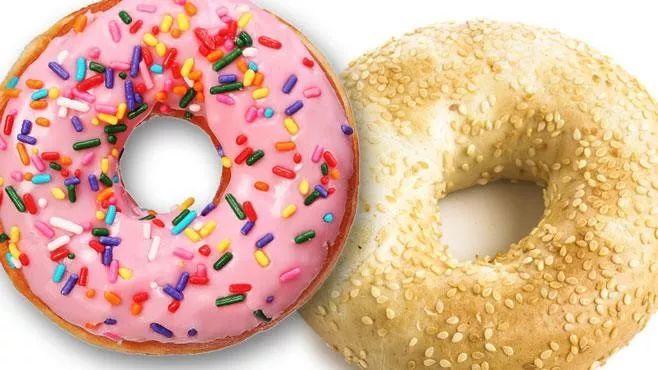 After all this bagel talk, I am sure you are hungry and want to try some bagels. We've prepared a gift for you! 
Just leave a comment below, each of the TOP 6 who receive most likes before Sept 24 will: 
Select 6 flavors you want, 

Enjoy the tasty bagels,

For totally free! 
These bagels will be delivered to you via SF express.
We want to thank
HH Gourmet
for making these free bagels offer to our great friends.
If you do not win, do not worry. HH Gourmet offers nationwide delivery and the bagels are individually vacuum packaged for your convenience. 
HH Gourmet is offering a free bag of handmade ginger candies for all first-time orders of 100RMB or more on their site. Scan the QR code to visit their site! 
Website:
https://hh-gourmet.cn/
Share to let your friends know!